George Mink, Martial Arts Instructor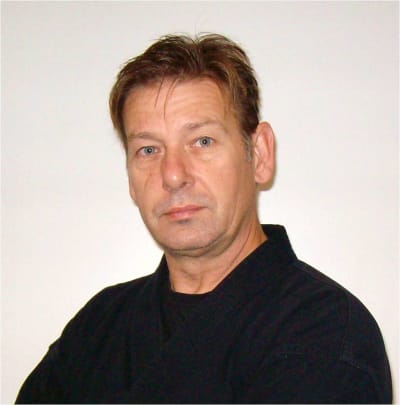 George Mink
Renshi Mink started training in martial arts at 15 years of age. He's trained all over the world including Japan, France, Israel, Korea, Taiwan, the Philippines and across the United States. He holds black belts in five different styles of martial arts and has competed in full contact boxing, kickboxing, jujitsu and mixed martial arts competitions both in the United States and overseas for more than 25 years. Renshi Mink raced as a professional marathoner and triathlete all over the world for more than 15 years while simultaneously training competitively for martial arts. He's one of a handful of people in the world to complete the Alcatraz to San Francisco swim three times. This swim is considered physically impossible for most people and is notorious for it difficulty with racers swimming over 2 miles in 58 degree, shark-infested waters with a 4mph current.
For over 20 years he's been an entrepreneur and expert business consultant. Renshi Mink partnered with Kyoshi Pitassi in 2009 to commit his martial arts and business development skills to helping impact people's lives and making 3T a household name. His current rank of 7th Dan and the title of Renshi was awarded to him by Hanshi Terry Bryan, founder of the Shorin Kempo Karate system and the American Black Belt Association.
REQUEST INFORMATIONS
Request information now!
Training Centre Located at 216 Frank Scott Pkwy E, Swansea, Illinois 62226